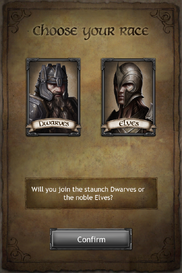 In the The Hobbit: Kingdoms of Middle-earth you are prompted to chose from two playable races when you first begin the game, these being either the Elves or the Dwarves. The choice of race doesn't provide any advantage either side, both races have the same buildings, mechanics, research, troops etc. The difference is the visual appearance and naming of such things.
Typical battle troops are trained in a barracks, they continuously require food upkeep to be maintained when they're in your city, however defense troops trained from City Wall cost no food upkeep. The defense troops are not able to be sent into battle and can only defend the city, where battle troops are able to both attack and defend.
Types of troops:Edit
For both races there are four types of troops; foot, ranged, mounted and supply. Each having an advantage against one type of troop and a disadvantage against another (except supply troops, which are used primarily to transport resources).
There are five tiers of battle troops which can battle, however currently only the first three tiers can be trained, the other two remain for in-game contests. The attack, health, speed and carry load of troops increases depending on the tier it belongs to. However, more resource and higher building and research levels are required to build stronger troops.
| Icon | Name | Description |
| --- | --- | --- |
| | Porters | Victory songs sound sweet, but enemies plunders is stilll sweeter |
| | Mounted Elves | Swift steeds give these Elven troops essential mobility on the battlefield. |
| | Elven Militia | Although not all Elves are warriors, all can take up arms in time of need. |
| | Elven Archers | Famous for their range and accuracy, Elven archers can reap a bloody harvest before their enemy can strike a blow. |
| Icon | Name | Description |
| --- | --- | --- |
| | Porters | The enemy's gold won't carry itself! |
| | Mounted Dwarves | Dwarves are not natural horsemen, but their mountain ponies trot well enough to get their axes to the right place. |
| | Dwarven Militia | All Dwarves will fight to protect their people, even those who lack amour and proper weapons. |
| | Axe Throwers | Perfectly balanced and with the strength of the Dwarven arm behind it, a throwing axe is a deadly weapon. |
| Icon | Name | Description |
| --- | --- | --- |
| | Supply Carts | Supply carts can carry gifts to one's friends and bring back loot from one's foes. In either case their arrival is most welcome. |
| | Mounted Hunters | Swift-riding hunters chase their foes through woods and over mountains. None can escape them. |
| | Elven Warriors | Elven warriors have been protecting their land for countless centuries. Few enemies can match their valor. |
| | Scorpions | Elven archers are rightly feared - but a Scorpion fires a bolt that is six feet long! |
| Icon | Name | Description |
| --- | --- | --- |
| | Supply Carts | Supply carts let you bring back even more loot from your enemies - or send even richer gifts to your friends! |
| | Boar Riders | Fierce boars make the perfect mounts for these fast-moving Dwarf warriors. |
| | Dwarf Warriors | For centuries, Dwarven axes have kept the mountains safe from thieving Goblins and sneaking Elves alike. |
| | Siege Crossbows | A six-foot spear can punch through the hardest amour! |
| Icon | Name | Description |
| --- | --- | --- |
| | Supply Wagons | Supply wagons are heavily armored to carry loot through a raging battle and bring it back unscathed. |
| | Mounted Galadhrim | These elite Elven warriors ride noble steeds into battle, scattering their foes in all directions. |
| | Battering Rams | A Battering Ram opens the enemy's gates like the wind parts the grass! |
| | Ents | Entish allies can throw huge rocks, decimating any enemy. |
| Icon | Name | Description |
| --- | --- | --- |
| | Supply Wagons | Supply wagons are heavily armored to carry loot through a raging battle and bring it back unscathed. |
| | Heavy Boar Riders | An armored Dwarf on an armored boar - and who can say which is fiercer? |
| | Battering Rams | A Battering Ram can crack the stoutest fortress! |
| | Catapults | Catapults fire huge rocks capable of crushing any foe. |
| Icon | Name | Description |
| --- | --- | --- |
| | Supply Caravan | Caravans can carry enormous quantities of loot safely through all kinds of hazards. |
| | Galadhrim Lancers | A wall of bright spears backed by the speed of horses and the skill of Elven nobles. Few foes can withstand their charge. |
| | Mithlond Guards | The guardians of Mithlond, the Grey Havens, are among the most heavily-armed Elven troops. Unprotected by moutain or forest, the port city depends upon its guards to defend it. |
| | Great Eagles | Great Eagles of the Misty Mountains are deadly warriors, much valued by their allies. |
| Icon | Name | Description |
| --- | --- | --- |
| | Supply Caravan | Caravans can carry enormous quantities of loot safely through all kinds of hazards. |
| | Boar Archers | Mounted on fierce boars, these fast-moving archers can catch and slaughter almost any foe. |
| | Dwarf Phalanx | Standing shoulder to shoulder and armed with bristling pikes, a Dwarf phalanx is almost unbreakable. |
| | Catapult Wagon | A small battery of catapults is mounted to this heavy cart, ready to take destruction to your enemies wherever they are! |
| Icon | Name | Description |
| --- | --- | --- |
| | Supply Columns | These heavy transport units can resist almost any attacker, moving your supplies and loot in safety. |
| | Riders of Rivendell | These heavy lancers protect Elrond's realm and strike out against all evil. |
| | Elven Rangers | With both sword and bow in hand, these elite warriors tread silently to protect the Woodland realm from all foes. |
| | Galahdrim Archers | If Elven Archers are renowned, then Galadhrim Archers are legendary. They rain death upon any foe. |
| Icon | Name | Description |
| --- | --- | --- |
| File:D T5 Supply.png | Supply Columns | These heavy transport units can resist almost any attacker, moving your supplies and loot in safety. |
| | Riders of Erebor | u19:Armed with great spears and mounted on savage boars, these armored riders can fight any foe. |
| | Grim Hammers | These armored warriors live up to their name, crushing enemies with their great warhammers. |
| | Crossbow Warriors | The heavy iron bolt from a Dwarven crossbow can pierce the strongest armor and the toughest hide. |
Trending pages
All items (40)