The Dwarves are one of the playable races in The Hobbit: Kingdoms of Middle-earth and in the upcoming game: The Hobbit: Armies of the Third Age.  
There are many troops you can have. Such as:
Tier 1:

Tier 2: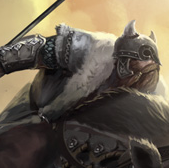 Tier 3:

Tier 4:
Tier 5:
Riders of Erebor
Grim Hammers
Crossbow Warriors

And the Dwarven siege weaponry troops.

There are Dwarven heroes too!
Bofur
Gandalf
Radagast
Bilbo
Saruman
Dori
Dwalin
Fili
Gloin
Community content is available under
CC-BY-SA
unless otherwise noted.