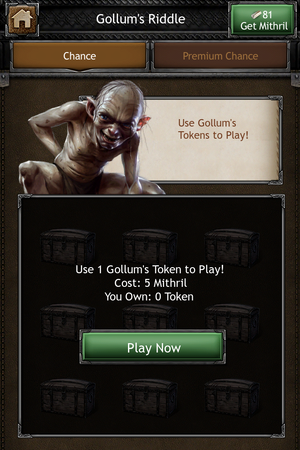 Outdated
Edit
This is left for historical purposes. Please see Galadriel's Gift for the most recent information. 8 Jan 2015
Gollum's Riddle
Edit
Gollum's Riddle (Now replaced with Galadriel's Gift) is a game that lets you select one chest out of nine, each chest contains a different Item in order to win.
It is possible to win any item that is also purchasable with Mithril. It is possible to win a Hobbit Building Crew or Second City Deed from Gollum's Riddle.
To play this game you require one of Gollum's Tokens which can be purchased in the Items shop or In the Gollum's Chance Chest icon. Each Token costs 5 Mithril .
Premium chance takes 6 tokens, but gives you better rewards. During certain events, Premium Chance requires only 1 token to play.
You can receive one free play for Gollum's Chance each day by logging in. 
Community content is available under
CC-BY-SA
unless otherwise noted.